14 tags
Vogue 8685 with Latte flavor version
Who says it's better to wear darker colors in the winter? And who says white makes you look fat?!… I have my coffee latte at one hand and going through some magazines for an inspiration piece for my next sewing project and I realize that I still haven't tried out one of my recent purchases from Vogue Patterns. So I rushed to my fabric stash and started searching for a nice...
1 tag
14 tags
Hmmm... Shiny! :)
Does anyone has extra foil lying around the kitchen drawers? You do not need to limit its use with the kitchen! See the dress I made? :)))  No, of course I'm not serious! This is just another gorgeous fabric that I've bought… Couldn't resist the shiny color, how could I ?!… [[MORE]]So I bought this silver fabric, came home and after the dazzlement effect wore...
10 tags
Who's back there?!
I've been haunted by my overloaded day job for a while and couldn't spare any time for my night life - namely, my sewing time!  I finally broke the curse and sewed myself a nice, comfy jersey dress that takes an hour to sew tops.           I still couldn't finish the inseams but this hasn't stopped me from wearing it right after my final rehearsal. My crazy worklife...
16 tags
I'm back with an awesome jacket!
I know… It's been ages… I was so overloaded with my day job that I couldn't update my blog as much as I wanted.  But the hectic 2012 has finished and I'm back with new projects :)) So, zillion years ago I've posted a text about my upcoming sewing project. I'm glad to say that I've finished it, wore it many times and already put it in the...
4 tags
14 tags
What's on my sewing table...
I have even less time I can spare for my sewing passion this month. But I'm determined to keep up with my sewing life and blogging about it! :)  I'm dedicated to finish this jacket for this month. The pattern was published in Burda Style's August 2012 issue with pattern no. 137. It can also be purchased from here: Shawl Collar Jacket I really liked this collar style as it...
17 tags
A High-end watercolor project...
Hello Everyone!  I know, I'm terribly behind my posting schedule :( But I started a new project lately, which requires 150% of my time until February… But I could not keep myself away from the blog any longer and decided to share with you a project I finished right before my hectic work life began.  As seen above, this time it is not the pattern (or our size 0 model's...
9 tags
16 tags
Watch and Learn Grasshopper - Origami Raglan...
Almost everyone who've read my post about the Red Dress I made using Burda Style's 08/2012 no. 121 pattern, were very interested in how I made the origami sleeves and added it to the original dress pattern.  As said before in my related post, I was inspired by Straight Grain's project she made for her adorable daughter. She provides a great tutorial about it in her blog. But let...
13 tags
Just another red dress? I don't think so :)
Well, as I have announced couple of days ago, I decided to sew a red dress for the Republic Day celebrations on October 29th.  I had an eye on the Burda Style's seamed dress released with August 2012 issue for quite some time and when I decided to sew a red dress, this was the only pattern that came to my mind. (Pattern also sold here separately.) I believe my version of the dress turned...
8 tags
Would you join us for sewing a red dress for...
Hi Guys! I've created an event for the Republic Day on October 29th this year. I'll be sewing a red dress with a white accessory or a small detail in white (obviously, the national colors… :P ) I'll be sharing other blog writers' and sewing enthusiasts projects on the day as well, with giving them back-links in my Turkish version of Sewing Your Style. If you also...
11 tags
An Excessively Purple Dress!
While the fall is coming loud and clear, the wardrobes and the sewing projects are getting darker and thicker. Well, I thought if I'm to loose the light and bright colors of summer, I should at least go down with a good fight! So please see above the first dress of my fall collection :) [[MORE]] This pattern was again from easy and pleasy pattern collection of BurdaStyle. It was from...
16 tags
Watch and Learn Grasshopper - No-Pattern Sequin...
It's been quite some time since I added a post in the "Watch and Learn Grasshopper" section. I guess this one would be much more interesting for many fashion and sewing enthusiasts 'cause it's a very easy-to-sew project and the best part is, there's no need for a pattern!   Items needed:[[MORE]] 1/2 meter jersey (for sizes 0-12); (1 meter for larger sizes)  ...
14 tags
I'm featured in Sew News!
This month has been full of surprises and gifts for me! - Last week I learned that I was featured in Fashion Spotlight blogs of Tumblr.Com;   - I then received a very nice fabric gift from another blogger and … - yesterday I got a gift pack sent from miles away with a letter saying that I was featured in Sew News Magazine's October  / November 2012 issue! How amazing is that?!  :D  ...
10 tags
Any Questions?
Congratulations! I haven't seen many blogs that provide such thorough tutorials! Keep up the good work Sensei! By the way, when are you planning to sew and tell about a Chanel jacket?  _____ Thanks for your comment :) Let me clarify one thing first: I'm not a Sensei of anyone :) The "grasshopper" in the "Watch and Learn Grasshopper" page is actually...
9 tags
I'm featured in Tumblr's Fashion Spotlight List!
I was wondering why my followers started to grow vastly over a night. Then I realized that the ever so wonderful Tumblr.Com has featured my sewing blog on its popular fashion spotlight list! - well, the Turkish version of my blog :)    So, who's on this list? Rachel Zoe, Nina Garcia, Ell Magazine… and ME! :)) Oh, no… My ego is growing on a critical level…  
12 tags
An Hour to Sew Top and some hospital fashion...
It's been almost 2 weeks since I shared a sewing project with you :( Partly because of the heavy workload in the first week, and partly due to my 3-year-old man's unexpected and unending sickness in the second week :(  When things started to get back to normal at home, I rushed into doing the two things I enjoy doing most in life: sewing and blogging about it :)) So this...
19 tags
EASIEST WAY TO MAKE A T-SHIRT DRESS
It is very easy to make your own wardrobe with some simple steps! I mean, not everything you sew should be featured in a fashion magazine… If you are a consumer of RTW world, then with average sewing skills, you can easily make a good quality RTW outfit as well! Moreover, it is quite easy to create different outfits by using simple and basic patterns, like the one I used in this dress....
7 tags
18 tags
Any Questions? - What to do with velvet fabric...
Hello! I have a brown colored velvet fabric at home (for about 3 meters) and I can't decide what to do with it.  :) I was thinking maybe you could help me make up my mind about how to use it :D ______ Hi! As the winter is coming, it might be a good idea to get ready with chic outfits and velvet is indeed a nice choice when used wisely :P How about a velvet dress? Combine it with a sheer...
17 tags
Peplum Jacket completed! I'm having a huge ego...
I've torn myself apart but finally finished it! Despite the few flaws in the lining, I managed to sew this jacket right :D My sewing ego just boosted… Who's gonna stop me now?! Would I be exaggerating a little if I aim New York Fashion Week for next year?… [[MORE]]I call this one a peplum jacket but the real deal is the sleeves! I actually bought this pattern from...
18 tags
Akris Collection's Peplum Jacket on the way!
I just love the knock off patterns from Vogue :) This time I tried the V8718 jacket which is almost the identical pattern of Akris' 2010 resort collection. See for yourself: [[MORE]] The pattern envelope includes 5 items (jacket, t-shirt, dress, pencil skirt and pants). I was quite intrigued by the sleeves and the peplum-like waistband when I first saw the pattern (which was actually...
5 tags
20 tags
Polka dots and childish dreams...
For years I have thought that polka dots were for little girls. Lately I realized that they can be quite chic if styled smartly. I think I'm getting the idea that anything can be wearable and perfectly fashion-forward with correct styling. Or maybe it's only to do with me getting older and freeing myself from my boundries :D[[MORE]] When I first bought this fabric - a white cotton...
6 tags
Time for some ego boost :D
i absolutely fell in love with your blog! i have a lot of respect for your work, seriously! A hug! :o)  vickivalediary ——— Thanks Vicki! I love sewing and blogging about it. 
10 tags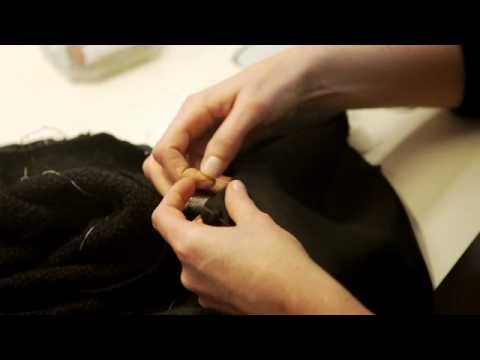 13 tags
Any Questions?
Hello, I just discovered your blog and  there's great stuff in it! Is it possible to get some information about how to sew a maxi skirt as well? ___________ Hi! Maxi skirts are indeed quite trendy these days. I can see it on almost everyone when I walk around the streets, with various colors and patterns. I, however, got really bored with wearing maxi skirts, since they used to be my...
18 tags
Peter Pan Collar Sew-Along
Hello Everyone, Remember my previous post about How to Make a Peter Pan collar? Well it turned out to be quite a hit so I decided to prepare a more detailed post about it. Below there's a step-by-step explanation on how to make a Peter Pan collar with basic sewing skills.  It's very detailed and cost me some hard work :P   So, please pay my blog the credit when you're using...
19 tags
Butterflies and pink dreams...
For me, this has been the most romantic summer dress of 2012. It's so light, so soft, so chic! The  fabric is a light pink chiffon with gorgeous print of butterflies and flowers on it. I fell in love with it the minute I saw it at the fabric store and finished the dress in a day![[MORE]] The romantic feeling of the dress has immediately taken over my life. The minute I wore the dress, the door...
14 tags
Adoring the new fabric booty :)
Since the fabric pile at home is still not above by head… (more around my shoulders I must add) I went to the fabric store to look for something new and fresh. Then I found this adorable chiffon fabric!  And the best part is, I have just the right earrings for it! :P The (only) good thing about living in a textile heaven country is that you can find various types of fabrics almost for free...
11 tags
Any Questions?
Hello there. I want to make a peter pan collar but can't find a nice pattern. How can I draw it myself? ______ Hi! Making a Peter Pan collar is very easy and fun. You really don't need a pattern for that. 'Cause you can draw it easily! All you need to do is:[[MORE]] 1- measure around your neck 2 - add 1.5 inches to that 3- draw it circularly on a pattern paper 4-...
19 tags
Flamingo Dress is Completed!
I finished my dress! Despite the killing heat, I managed to make a awesome dress out of awesome fabric with flamingo prints :) The real awesomeness of this dress is that it was quite easy to sew and looks perfect when finished. Although it was a moderately easy pattern, the dress looks really elegant when finished. I mean, as elegant as any dress covered up with flamingos would look :P ...
9 tags
15 tags
What's on my sewing table...
So here's my upcoming project. Another elegant summer dress pattern from 1950s. This time it's Vogue's vintage pattern no. 2961. It's a classic 1950s fashion dress with a tight bodice and a circle skirt. The original pattern was first published in 1953. What do you think would be the best print for this pattern?… You're right! It's definitely a bunch...
19 tags
Watch and Learn Grasshopper - How to make piping...
I woke up this morning thinking that it is a fine day to write about how to make piping at home!  So, what t is a piped bias one may ask… Hmm,  think about the boring pillow and cushion covers… Not a very inspiring example isn't it? :P Well, let me tell you, by using the right combinations it becomes a very cool sewing technique that turns an ordinary pattern into a chic...
15 tags
Defying the summer laziness...
I've been sewing like crazy since the start of my holiday but was too lazy to take photos of my projects. I then realize that it's been only 2 posts this month so I rushed into taking photos at least for my final project.  This blouse is made with Simplicity 2614 and the lace skirt completing the look is - hopefully- well recognized by the SYS readers. It's SYS...
23 tags
The "flip-flop" halter dress finished!
I'm finally on holiday and want to celebrate it with a fun, comfy and chic dress for the summer. Sewing is seriously getting more easier than shopping for me… Think about it: you first go on window shopping, make a list of the items you loved, then limit your choices with your budget, find a dress that you'd adore - which would also fit exactly your size and body shape…...
12 tags
Upcoming Project: 1950's halter dress!
It's been quite some time since I last wrote and I feel very bad about it :( But my hectic work program has just finished and I feel like a school kid just going out to summer break! Of course my heavy workload did not stop me from daydreaming about my next sewing project. This month's BurdaStyle mag offers so much for my well deserved holiday plans. If you enjoy 1950's...
7 tags
14 tags
Check Out Burda's Free Theresa Dress Pattern!
BurdaStyle has just released a nice summer dress pattern for free! Check it out before they remove it from their page :) They provide the downloadable pattern in two versions - one for home printers and one for print houses. The instructions are also downloadable. It looks quite a nice and easy pattern to sew for a casual summer dress, isn't it? I think I'll give it a try in the coming...
16 tags
Is it a curtain? No no, it's a lace dress!
      SEWING AN EASY LACE DRESS This was a project that I've been dying to start for a very long time. I have made a skirt version of it some time ago.  (for investigative personalities it is Lace Skirt, I did it!) While the workload gets more and more, I had been daydreaming about my new sewing project for days. I then decided to make a lace dress since - I assumed - it would finish...
15 tags
Check Out My DIY Wardrobe!
               Welcome to my DIY wardrobe! All the outfits presented below are made from scratch by myself and it's been only 2 years since I learnt how to sew!   If you also: -have an eye on fashion and -a little talent in holding scissors, threads and needles without hurting yourself (!) Why don't you start Sewing Your Style as well? :D CLICK ON THE LINK TO VISIT EACH PROJECT...
18 tags
Easy DIY Fashion Ideas: Color Up Your Leg Hems...
AND MAKE ALTERNATIVE SUMMER CAPRI PANTS! Hello everyone! I came up with the idea of adding colorful pieces to the leg hems of your favorite pants for the summer. It's quite an easy and fun alteration. You can even use your jeans for this project! In order to use this method, you need to have: a pair of pants with preferably a bootcut legs, if not skinny pants any matching piece of fabric...
8 tags
16 tags
An Italian Fabric Store in the middle of South...
DISCOVERING A FAIR PRICED DESIGNER FABRIC STORE IN ADANA Alright, I admit. I'm a fabricaholic :) The thing is, when I see good quality fabrics, I don't just enjoy them because of their colors or patterns, I love them because of the potential of turning that one piece of fabric into a great outfit. I immediately start wondering what kinds of great designs one can make out of them. ...
9 tags
Sewing Your Style... Just around the corner! →
So you still haven't moved to Bloglovin and enjoyed its "virtues" yet? Well, if you're blogger, you must! If you just enjoy reading others blogs then again, you must! It makes life so easier 'cause with this website you just add the blogs you like to read in your list and when you open your account the website just brings up the new posts in each blog you follow. I...
12 tags
Enjoying world's biggest art museum with my pop...
While I was visiting one of the biggest art museums in the world, I wanted to have a fashionable outfit appropriate for the venue. Of course I first thought about wearing a high fashion gown, then I had a sinister feeling that I might overdo it and went for a pair of sneakers, jeans and my newly made pop art jacket instead.  With long corridors full of giant oil paintings and rooms full of...
17 tags